This is something i could get use to ..
(LE WHIF)
im ordering mine up like as i type
the is HOT SHIT!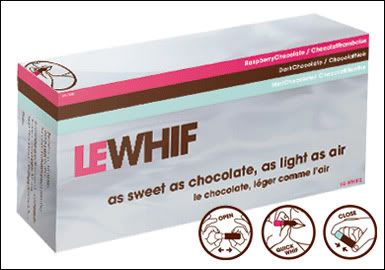 LE WHIF is a fun new way to experience chocolate without the calories
A quick puff from the patented lipstick-like device starts the unique LE WHIF Chocolate Taste Experience.
Chocolate flies through the air from the end of the
LE WHIF cylinder
Chocolate sprinkles onto your tongue through small holes in the mouthpiece
Chocolate never touches your fingers
Le Whif packs intense flavor into less than a single calorie.